The Activistic Basis of Knowledge
Keywords:
Epistemology, Praxeology, Human Action, Timology
Abstract
The author discusses the human action, its fields in the social sciences as opposed to the natural sciences, refutes a unified science as unattainable, and explains Praxeology and History, as well as their logical character, as the two branches of human action and, finally, the Thymological Method.
Downloads
Download data is not yet available.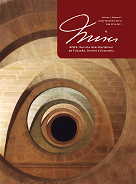 How to Cite
Mises, L. (2013). The Activistic Basis of Knowledge. MISES: Interdisciplinary Journal of Philosophy, Law and Economics, 1(2), 325-336. https://doi.org/10.30800/mises.2013.v1.509
Section
Epistemology & Ethics

This Journal is licensed under a Creative Commons Attribution 4.0 International License.