Reflections on Mises' Human Action
Keywords:
Human action, Experiments, Evolution of the mind, Conscious and unconscious actions, Brain circuits, Nexus reason-emotion, Human society, Cooperation
Abstract
The author applies the Experimental Economics to analyze some of the postulates of Mises in Human Action. He seeks to demonstrate, using the postulates of Experimental Economics, that the spontaneous order, operating through the institutions of property rights, displays the desirable characteristics that Austrians claimed. This power of demonstration is, to the author, much more attractive than the appeal to reason, especially emphasized by Mises.
Downloads
Download data is not yet available.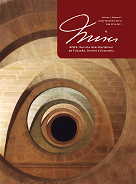 How to Cite
Smith, V. (2013). Reflections on Mises' Human Action. MISES: Interdisciplinary Journal of Philosophy, Law and Economics, 1(2), 387-400. https://doi.org/10.30800/mises.2013.v1.491
Section
Economics, Methodology and Praxiology

This Journal is licensed under a Creative Commons Attribution 4.0 International License.