Austrian Liberalism in the Thought of Michel Foucault:
International Political Theory in a New Perspective
Keywords:
International Relations Theory, International Political Theory, Austrian Liberalism, Michel Foucault, Biopolitics, Governmentality
Abstract
In this article, I offer a conceptual clarification regarding the place occupied by central Austrian Liberal authors, Mises and Hayek, in the thought of Michel Foucault, in what concerns the gestation of the (neo)liberal biopolitics and governmentality. I also advance the argument that the study of the relationship between Foucault, Mises and Hayek opens new possibilities to think International Political Theory in late modernity as a set of reflections concerning the relationship between morality and the problem of the political in the anarchical society of sovereign nations.
Downloads
Download data is not yet available.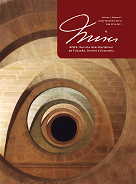 How to Cite
Tellez-Zepeda, C. (2013). Austrian Liberalism in the Thought of Michel Foucault:. MISES: Interdisciplinary Journal of Philosophy, Law and Economics, 1(2), 549-563. https://doi.org/10.30800/mises.2013.v1.513
Section
Society, Legislation and Politics

This Journal is licensed under a Creative Commons Attribution 4.0 International License.