Revisiting the Definition of Money
Keywords:
Money, Currency, Medium of exchange, Indirect exchange, Definition, Concept
Abstract
According to the majority of Austrian School economists, money is defined as the universally accepted medium of exchange. However, this notion of money is vague. Thus, aiming at removing as many imprecisions as possible, we hereby propose a refinement in the definition of money.
Downloads
Download data is not yet available.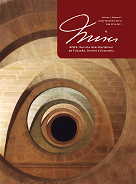 How to Cite
Ulrich, F. (2013). Revisiting the Definition of Money. MISES: Interdisciplinary Journal of Philosophy, Law and Economics, 1(2), 433-440. https://doi.org/10.30800/mises.2013.v1.497
Section
Economics, Methodology and Praxiology

This Journal is licensed under a Creative Commons Attribution 4.0 International License.