Secession and Federalism in Austrian School's Perspective
Daniela Sofia Gomes da Silva

André Azevedo Alves
Keywords:
Secession, Constitution, Polycentricity, Nation, Federalism, Competition
Abstract
In order to make known the concept of secession from the perspective of the Austrian School, this work considers the contributions of several authors that help us to better understand how this option relates with the idea of inter-territorial competition. In this sense, secession is presented together with the concept of polycentricity, which in turn, is related with the theoretical discussion about federalism. Bringing together the central ideas of the Austrian School with those Political Theory concepts, several arguments are presented in support of the decentralisation as a means of limitating power.
Downloads
Download data is not yet available.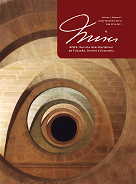 How to Cite
Silva, D., & Alves, A. (2013). Secession and Federalism in Austrian School's Perspective. MISES: Interdisciplinary Journal of Philosophy, Law and Economics, 1(2), 589-601. https://doi.org/10.30800/mises.2013.v1.519
Section
Society, Legislation and Politics

This Journal is licensed under a Creative Commons Attribution 4.0 International License.