The Intellectuals And Socialism
Friedrich August von Hayek
Keywords:
socialism, liberalism, market of ideas
Abstract
In this article, Hayek investigates the "secondhand dealers on ideas", examining the existing incentives and characteristics of the proponents of intellectual activity. In addition to providing an explanation why intellectuals tend to socialism, the author suggests that classical liberal intellectuals should emulate the pursuit of these socialist intellectuals for desirable rules, different from the status quo, to construct a liberal alternative that captivates consumers of political ideas.
Downloads
Download data is not yet available.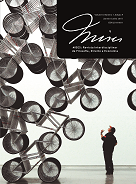 How to Cite
Hayek, F. (2017). The Intellectuals And Socialism. MISES: Interdisciplinary Journal of Philosophy, Law and Economics, 5(1), 109-123. https://doi.org/10.30800/mises.2017.v5.46
Section
History of Economic and Political Thought

This Journal is licensed under a Creative Commons Attribution 4.0 International License.