Utopia As Religion:
A Proposal For Advance The Austrian Criticism Of The Yearnings Of Socialist Scatology
Keywords:
Utopia, Eschatology, Marxism, Millenarianism
Abstract
The article draws attention to the fact that political thought often manifests itself as a substitute for religion: metanarratives of a demystified telos for history. It discusses how socialism has progressively dispossessed the religious eschatology of its sphere of activity and has brought it to the common history. This posture led to the belief that, in the future, any political act will transform what once was absurd into something logical and what was disharmonious into something harmonic. Based on this, the article criticizes the utopian system and its nature of religious hope, using and advancing the Austrian proto-criticism.
Downloads
Download data is not yet available.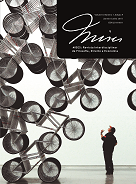 How to Cite
1.
Martins Y. Utopia As Religion:. MisesJournal [Internet]. 2017Dec.9 [cited 2020Feb.20];5(1):147-65. Available from: https://revistamises.org.br/misesjournal/article/view/51

This Journal is licensed under a Creative Commons Attribution 4.0 International License.